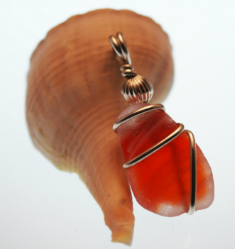 Very Unusual Fused Sea Glass Pendant
(Approximately 1"H x .5"W)


This appears to be some type of art glass --- two pieces fused together, one red and one clear (white). It might be the remains of some type of fancy tableware. My entire collection of sea glass only contains about 20 pieces of fused glass --- very rare finds, indeed! The beauty of the glass shines through the simple wire wrap and the piece is topped with a brilliant corrugated bead. Perfect!
An 18 inch sterling silver snake chain is included with this pendant at no extra change.
$129.95 (Free Shipping)