Lavender/Pink/Purple Pendants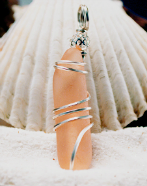 Peachy Pink Cup Handle Sea Glass Pendant
(Approximately 1.5" H x .5" W)
This well worn and frosted piece is long and narrow, but round and quite thick --- very unusual! It is wrapped in gleaming sterling wire and topped with a delicate, lacy sterling bead. Lovely!
This sea glass pendant is accompanied by an 18 inch silver plated snake chain at no additional cost.
$64.95 (Free Shipping)

Beautiful Lavender Sea Glass Pendant
(Approximately 1"H X .75" W)

This perfectly frosted piece of lavender sea glass has a slightly raised edge at the top --- this might be the remnant of a once clear jar or bottle (see information under the "Genuine Sea Glass" tab). This pendant is wrapped in sterling silver wire and topped with a lustrous glass pearl.
An 18" silver plated snake chain is included with this pendant.
$79.95 (Free Shipping)



SOLD


Copyright 2021 Windswept Creations