Genuine Sea Glass
   Genuine or authentic sea glass treasures are found along coast lines and represent the remnants of a wide variety of items:  bottles, jars, tableware, marbles, buttons and even plate glass windows.  An increased interest in collecting sea glass is making these treasures more rare with each passing day. 
    Genuine sea glass is created by the interaction of waves and sand on discarded glass items —- beware of artificially created or tumbled items sold in craft stores and by some unethical vendors as "authentic."  The pieces sold by Windswept Creations are 30, 40, 50 and often in excess of 100 years old and collected primarily on the beaches of the barrier islands known as the Outer Banks of North Carolina.
   Sea glass (sometimes referred to as "Mermaids' Tears") comes in an incredible array of colors, from very rare hues of red and orange to the more commonly found pieces of clear (white) and brown.  Each piece is unique and, at least along the Outer Banks, evokes thoughts replete with images of swashbuckling pirates, heroic wartime battles and daring rescues on stormy seas.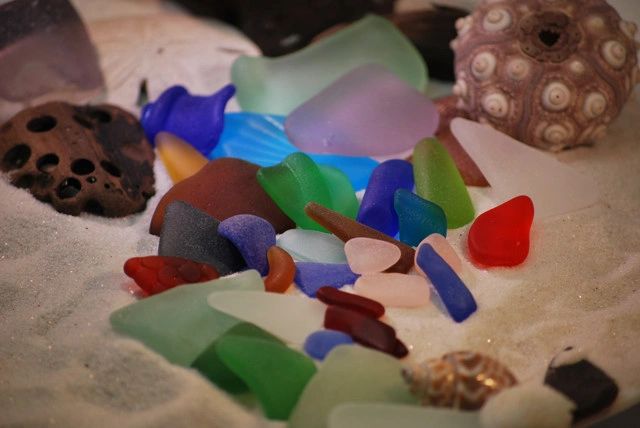 Below is a brief, general description of sea glass colors:
Extremely Rare:  Orange, Red, Turquoise, Yellow, "Black", Teal and Gray

Rare:  Pink, Aqua, Cornflower Blue, Cobalt Blue, Opaque White, Citron, and Lavender/Purple/Amethyst
Uncommon:  Soft Green, Soft Blue, Forest Green, Lime Green, Honey Amber, Amber and Jade
More Common:  Kelly Green, Brown and White (Frosted Clear)
   "Black" glass is usually a very dark olive green color achieved with the addition of iron slag.  Most black glass was made prior to 1900 (the majority was created  between 1700 and the late 1800s) and  is quite a rare find.
     The Lavender/Purple/Amethyst sea glass found on our beaches is, more often than not, the remnants of what began as clear glass containers manufactured between 1880 and 1915.  At that time, manganese oxide was added to glass during the manufacturing process to mask greenish colors which often resulted from impurities in the sand used.  When exposed to sunlight for prolonged periods, manganese causes the glass to take on a purple tint —- the higher the content of manganese and exposure, the darker the color.
     If you are interested in learning more, several materials are available, but a great reference is Pure Sea Glass—Discovering Nature's Vanishing Gems by Richard L. LaMotte.