Pendants in Shades of Blue


Cobalt Jar E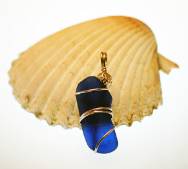 dge Sea Glass Pendant
(Approximately 1" H x .5" W)



Unusual shape and rich color make this perfect piece of sea glass a great pendant! The sterling silver wrap is topped off with a lacy sterling bead.
An 18 inch silver plated chain is included with this pendant at no additional charge.
$54.95 (Free Shipping)

SOLD






Thick Cornflower Blue Seaglass Pendant
(Approximately 1" X .5")
The hue of the deep blue sea, this thick piece of seaglass is hand wrapped in square sterling silver wire and topped with a brilliant corrugated sterling bead. A truly fantastic piece of seaglass created by the surf and sand of the magnificent Outer Banks of North Carolina!
$79.95 (Free Shipping)

SOLD


Copyright 2021 Windswept Creations